Coliving in Barcelona has been around for over 20 years, and there are now 100s of different co-living spaces in the city (or ciudad en espanol!). The concept is simple: live in shared housing with others while working at your own pace. Typically colivers will have access to a shared kitchen, bathroom, dining room, and common areas including a coworking space. If you're looking for an affordable place to live in Barcelona, consider coliving.
You will live in an incredible location
With its beautiful beaches, amazing food, and lively nightlife, Barcelona has something for everyone. Barcelona has established itself as one of the top cities in Europe for co-living. Barcelona is located between the sea and the mountains, which provide a wide variety of leisure activities to enjoy on weekends or (if you're working hours are flexible) during the week.
You will have access to amazing food
Barcelona and Catalonia (Catalunya) were at the epicenter of the worldwide explosion of Catalan cuisine in the early 2000s. It started a food movement led by visionary chefs, such as Santi Santamaria, Ferran Adrià, Joan Roca, and Carme Ruscalleda, who catapulted the region's cuisine to the top of the world.
Barcelona has 39 fresh produce markets spread throughout the city. The best-known markets are La Boqueria (voted the best market in the world in 2017) and Santa Caterina, in Ciutat Vella. Every neighborhood in Barcelona has its own market such as Gracia, Carmel, Sants and Hostafrancs.
Barcelona has great transport & public services infrastructure
Barcelona is a very well-connected city with an excellent public transport network.
The Barcelona Metro
The Metro is a great way to get around the city. It is clean, fast, efficient, affordable, and air-conditioned, a welcome relief from the heat in summer! It consists of eight lines: L1, L2, L3, L4, L5, 9, L10, and L11, and is managed by TMB (Transports Metropolitans de Barcelona)
The port
The port of Barcelona ("Port de Barcelona") is one of the largest in the Mediterranean. Spain's third and Europe's ninth largest port reports a trading volume of up to 3.42 million TEUs (as of 2018). The port is a beautiful masterpiece with magnificent views – The cruise terminal is an experience worth in itself!
The roads are safe
The roads in Barcelona are relatively safe. Like most countries in Europe, drivers drive on the right. The government has also implemented traffic modifications to permit free traffic flow. Most notable are the superblock projects that limit surrounding traffic in favor of bicycles, pedestrians, and public transport. The general speed limit within the city is set at 50km/h, while the speed limit on highways is 120km/h. And, of course, seatbelt and helmet use are mandatory!
Decent internet speeds
Digital nomads can rest assured that they won't have to contend with poor or slow internet in Barcelona. Internet users in Barcelona benefit from a real-world broadband speed of 98.07 Mbps, which is above Spain's national average of 92.41 Mbps. Thus, wired and Wifi users can access the internet at lightning-quick rates. You can do your remote working and take video meetings without fear of buffering!
Looking for a coliving space?
At 'Kalart' we offer coliving and coworking space in the countryside just 50 mins from Barcelona
High quality of education
Spain's public education system has decent reputation. The country offers Spanish education in both public and private settings, and education is free for Barcelona residents. Spanish education aside, Barcelona also offers international education. International schools in Barcelona are often country-specific in their intake and cater to American, British, French, German, and other nationalities. There are also world-renowned universities stationed in the city, attracting thousands of international students from various parts of the world.
Excellent hospitals and healthcare
Ranked 7th best in the world by the W.H.O, Spain's single payer health system offers universal coverage as and no extra expenses (except prescription drugs). You can also get private insurance to access private hospitals. Barcelona's private hospitals are excellent.
Quality of life in Barcelona is among the best in Europe
Barcelona is a safe city
Is Barcelona a safe city? Generally, Barcelona is safe with a moderate to low crime rate (ranked the 11th safest city in the world). The city's highest proportion of criminals are pickpockets, who typically target tourists. Nonetheless, like with all major cities it's best to practice vigilance, particularly in the popular tourist areas like Las Ramblas. Pickpocketing aside, most areas in Barcelona are quite safe.
A family-friendly city
Barcelona is a family-friendly destination. The locals are usually friendly and welcoming to children (los ninos!) and their families. There are also lots of kids and family-friendly activities you can engage in. Locals often extend invitations for gatherings mostly celebrated outside or in restaurants.
Freedom of speech
Every citizen has a right to freedom of speech and expression in Spain. Barcelona has a particularly open stance on freedom so you can speak without fear of prejudice or oppression.
A democratic city
In Barcelona elections are held every four years to vote for a mayor, and the councilors are obligated to elect a competent mayor who governs the city's affairs. The country has a parliamentary monarchy, a democratic constitutional monarchy where the monarch is considered the head of state and the Prime minister is head of Government.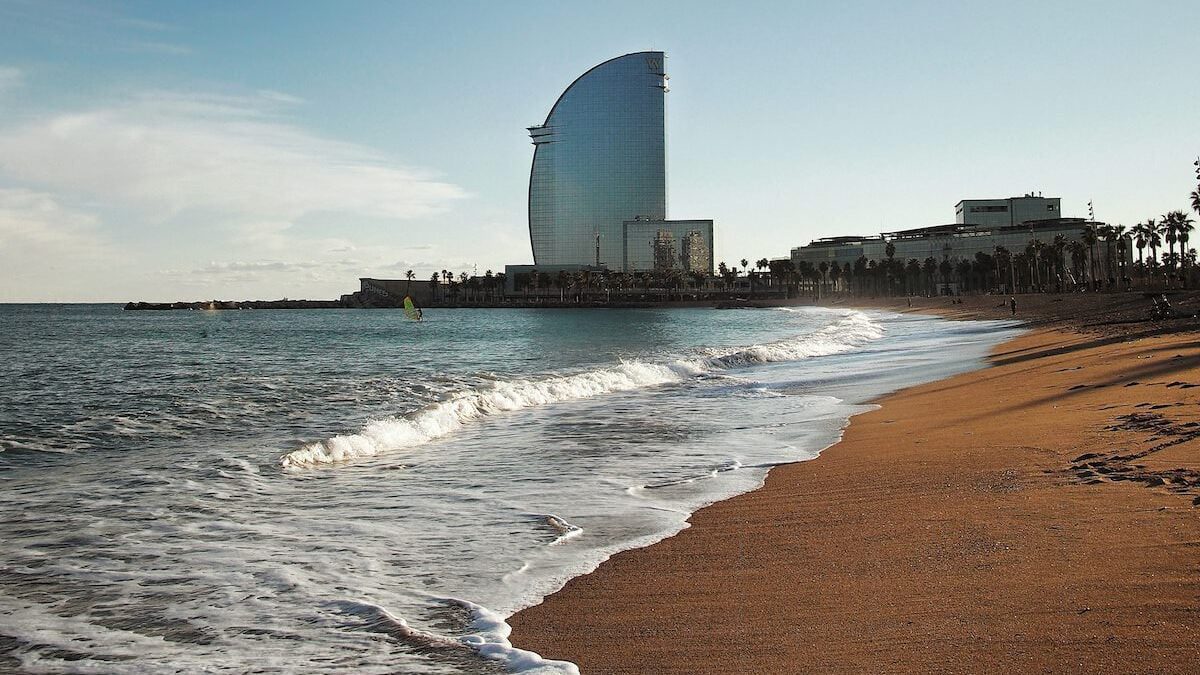 The weather in Barcelona is beautiful most of the year
One of Barcelona's main draws is it's pleasant climate. The transitional seasons of spring and autumn (fall) are generally warm. Summer months typically record temperatures of up to 30 degrees Celsius, and the winter season is short. On the whole, the temperature rarely drops below 8 degrees Celsius. Rainfall is also as rare, so if you love sunny, clear, rain-free days, Barcelona could be for you!
Looking for coliving close to Barcelona?
Join us at 'Kalart' coliving & coworking where you can be close to Barcelona but also have the peacefulness of the countryside
You will meet people from around the world
Barcelona is one of Europe's most popular destinations, attracting thousands of tourists and colivers every year. Meaning serendipitous meetings that you'll likely run into other travelers while living here.
Barcelona is a top city to do business
Bridging northern and southern Europe
With its equidistant location, Barcelona links to northern and southern Europe. As well as the large port and airport, the city has a high-speed train that connects to the European network and major Spanish cities. By road Barcelona is just two hours drive from France and no more than a day away from most of Europe's major cities.
Constantly evolving and dynamic economy
Ranked the 6th best European city for business, Barcelona boasts a dynamic and constantly evolving economy. It offers a solid market for Europe, Latin America, and North Africa. The economy accommodates forward-thinking entrepreneurs with a knack for progress and features leading industrial regions in the tech, automobile, and textile industries.
Barcelona is the first "Smart City" in Spain
Barcelona is the first Spanish city to adopt smart city technologies. The town started embracing digital technologies about ten years ago. Extensive sensor networks dotted the city provide data on noise levels, energy usage, transport etc for the Government and the private industry. If you are a remote worker you will likely appreciate Barcelona's WiFi being one of the widest networks of free internet on the continent.